I finished reading Nowhere But Here a few weeks ago. On second thought, it may actually have been a month or so ago. Anyway, I've read a few MC books in the past and more often than not I didn't like it too much. The love story and the passion I liked, but the lifestyle...I guess I just didn't find it too appealing. Or maybe I found the way the authors wrote it a bit pretentious? I can't explain it properly since I honestly can't even understand why I don't find it too appealing. Back to my original point; so you'd understand why I was a tad hesitant on doing a review of the book. But then I thought, "It's Katie McGarry, I'm sure she won't disappoint." So what happened when I read it?
Title: Nowhere But Here (Thunder Road #1)
Author: Katie McGarry
Publisher: Harlequin Teen
Publication Date: May 26, 2015
Source: ARC Lent by Tour Organizer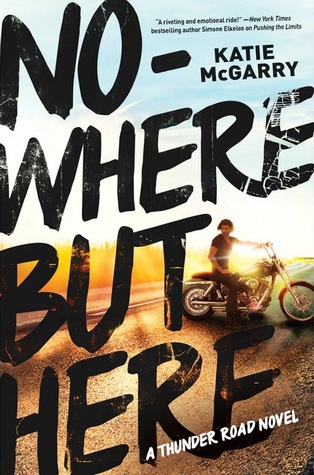 An unforgettable new series from acclaimed author Katie McGarry about taking risks, opening your heart and ending up in a place you never imagined possible.
Seventeen-year-old Emily likes her life the way it is: doting parents, good friends, good school in a safe neighborhood. Sure, she's curious about her biological father—the one who chose life in a motorcycle club, the Reign of Terror, over being a parent—but that doesn't mean she wants to be a part of his world. But when a reluctant visit turns to an extended summer vacation among relatives she never knew she had, one thing becomes clear: nothing is what it seems. Not the club, not her secret-keeping father and not Oz, a guy with suck-me-in blue eyes who can help her understand them both.
Oz wants one thing: to join the Reign of Terror. They're the good guys. They protect people. They're…family. And while Emily—the gorgeous and sheltered daughter of the club's most respected member—is in town, he's gonna prove it to her. So when her father asks him to keep her safe from a rival club with a score to settle, Oz knows it's his shot at his dream. What he doesn't count on is that Emily just might turn that dream upside down.
No one wants them to be together. But sometimes the right person is the one you least expect, and the road you fear the most is the one that leads you home.
Emily is a sheltered, close-minded, and quite selfish teenage girl. She has her life planned-out, but she hasn't actually lived yet. Change is not something she's a fan of, and she doesn't mind hurting other people as long as she can go back to her comfortable life. But then she starts changing.
Oz has known what he wanted ever since he was a kid, and he's not going to let anything -- or anyone -- get in the way of it. He's loyal, dedicated, and trust-worthy...most of the time. He falls for Emily even though he wasn't supposed to, and that gets him in a lot of trouble.
The story itself is kind of cliche...on the surface, but it's actually much deeper than what one would normally expect. There's drama, romance, a little action, some mystery, an abundance of family drama, harsh words are thrown around, and there is a lot of pent-up sexual tension. The way Katie McGarry described the lifestyle of a motorcycle club is believable; there are loads of booze and women (with undergarments on the wall as evidence), the old ladies are submissive and don't ask questions, and the brotherhood is more important than anything and everybody else. I didn't exactly like the ideology of it, and I don't really have any clear idea how things really goes in an organization of such, but I liked how they appeared "true to the patch".
Oh, I almost forgot (pfft! As if I'm really going to forget) about Oz. I loved him. He grew a lot in the book, found himself, and realized what's been in front of him all along. The fact that he's brutally honest while looking the way he does doesn't hurt either.
TO BLEH:
The thing, or rather the person, that turned me off the most is Emily. Yep. I hated how much of a snob she was more than halfway through the book, how angsty she was towards her father who was obviously trying to do everything to make her happy (I'll explain more about why I detested this in a while), and how she can go from hot one minute and cold the next. Okay let's go back to Emily's daddy issues: first of all, she's still fortunate that her father is doing everything he can to see her and protect her. He tries his best to get to know her and catch up on her life. But nooooooo, *eye roll* she has to be the way she is. I mean, is it because she's a teenager? Geez! I'm speaking from personal experience here, and let me tell you that I was NOT like that nor would I say "no" to the chance she got.
Overall I really liked Nowhere but Here in spite of my utter annoyance with Emily's attitude, and I give it 4 stars. I'm looking forward to reading the following installments actually, since the ending to this book left me with a lot of questions.
KATIE MCGARRY was a teenager during the age of grunge and boy bands and remembers those years as the best and worst of her life. She is a lover of music, happy endings, and reality television, and is a secret University of Kentucky basketball fan.
Katie would love to hear from her readers. Contact her via her website, katielmcgarry.com, follow her on Twitter @KatieMcGarry, or become a fan on Facebook and Goodreads.