My heart is hurting right now. I feel like a jackhammer is pounding my heart after a bulldozer ran it over. I just wrapped-up Never Always Sometimes, and I'm feeling very violent towards Adi Alsaid. I'm not even going to try to be mysterious or whatever -- I absolutely loved this book. But it doesn't change the fact that I am in pain right now. Adi... come on, man. Is that really it? I know you're trying to stick to the non-cliche theme, but I am suffering right now. *sigh* Since this isn't about me let me proceed with my review.
Title: Never Always Sometimes
Author: Adi Alsaid
Publication Date: August 4, 2015
Published by: Harlequin Teen
Genre: Contemporary Romance, Young Adult
Source: Bought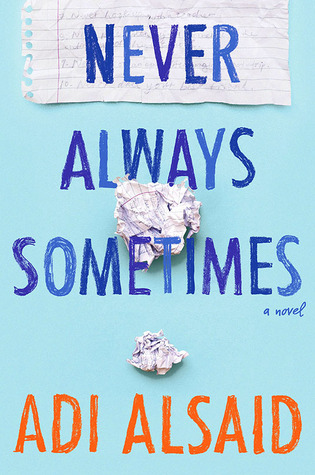 SYNOPSIS:
Never date your best friend.
Sometimes rules are meant to be broken.
Best friends Dave and Julia were determined to never be cliché high school kids—the ones who sit at the same lunch table every day, dissecting the drama from homeroom and plotting their campaigns for prom king and queen. They even wrote their own Never List of everything they vowed they'd never, ever do in high school.
Some of the rules have been easy to follow, like #5, never dye your hair a color of the rainbow, or #7, never hook up with a teacher. But Dave has a secret: he's broken rule #8, never pine silently after someone for the entirety of high school. It's either that or break rule #10, never date your best friend. Dave has loved Julia for as long as he can remember.
Julia is beautiful, wild and impetuous. So when she suggests they do every Never on the list, Dave is happy to play along. He even dyes his hair an unfortunate shade of green. It starts as a joke, but then a funny thing happens: Dave and Julia discover that by skipping the clichés, they've actually been missing out on high school. And maybe even on love.
CHARACTER BACKGROUND:
Julia is a beautiful, fearless, and carefree girl with a don't-care attitude. She's used to making light of things, being reckless, and doing things her way that she sometimes loses perspective of the important things. But no matter how tough she seems, her heart is made of solid gold. She likes making the people important to her happy no matter the cost. Even if it causes her great pain.
Dave has always been loyal to his friendship with Julia and the love he felt for her. His world revolved around her, and he has always hoped for the day she'll realize that she feels the same way. However, things don't always go the way we plan. Then he realized that maybe fate has something amazing planned for him. He just has to know pain.
REVIEW:
Oh, goodness. Where do I begin? First of all, Adi Alsaid is now officially one of my favorite authors. The way he writes appeals to me in a way that very few authors do. The humor he infuses in his books is almost exactly the kind I have, his vision (in this book) is something I can truly relate to, and he's very unpredictable. I'd love to read all of his books (which I will do soon) just to see if he's... consistent, for lack of a better word.
Never Always Sometimes, if you judge it by its cover, seems to be cliche. Two long-time friends with one in love with the other, embark on a journey together and develop a deeper understanding of things, including love. However, there is nothing typical and predictable about this book. I got kicked in the face every time I assumed I knew what was going to happen. Because of this cycle, I started worrying... a lot.
I committed a bookworm sin due to the suspense and my fear of not knowing what to expect--I skipped to the last chapter. Don't worry, I still went back to read everything else. I just needed to know what I am in for. Can I just say that the author owes me? I am not going to say why, though some of you guys may already have an idea. I want something more and I hope I will get that "more". There are still many things left hanging in the story, and I believe that gives Adi a huge space to work around in making it up to me. I say "me" because I'd like to pretend I'm selfish, and because he has affected--and scarred--me deeply. You know what I'm talking about, you sly author you.
I loved all the characters and I mean all of them. From the main characters to the support ones, even the extras. They were all very significant in the story's progression, and without them, I think the book would be a little less colourful.
SUMMARY:
Adi is a very talented author, and I will definitely be following his updates. Never Always Sometimes is the first one I've read of his work, but I assure you all that I will be checking out the past and future ones. I give this tear-jerking, gas-inducing, heart-warming book 5 stars. I recommend this to readers who love stories of unconditional friendship, love, growing up, and letting go. You will be taken on a wonderful ride, this I promise.
RATING:
PURCHASE LINKS:
ABOUT THE AUTHOR:
Adi Alsaid was born and raised in Mexico City, then studied at the University of Nevada, Las Vegas. While in class, he mostly read fiction and continuously failed to fill out crossword puzzles, so it's no surprise that after graduating, he did not go into business world but rather packed up his apartment into his car and escaped to the California coastline to become a writer. He's now back in his hometown, where he writes, coaches high school and elementary basketball, and has perfected the art of making every dish he eats or cooks as spicy as possible. In addition to Mexico, he's lived in Tel Aviv, Las Vegas, and Monterey, California. A tingly feeling in his feet tells him more places will eventually be added to the list. Let's Get Lost is his YA debut.
AUTHOR LINKS:
Twitter: @AdiAlsaid
Book image from Goodreads