When I read the blurb of Midnight Run, I instantly got curious. How can someone not realize that the two women he's falling in love with is one and the same? I didn't give anything away by saying this because it's kind of easy to deduce from the synopsis, right? Anyway, it goes without saying that I had to check it out for myself. And so here's my review.
Title: Midnight Run (Once Upon a Desire #1)
Author: Charity Hillis
Publication Date: May 15, 2015
Genre: Chick Lit, Contemporary, Romance, Women's Fiction
Source: ARC Given by Tour Organizer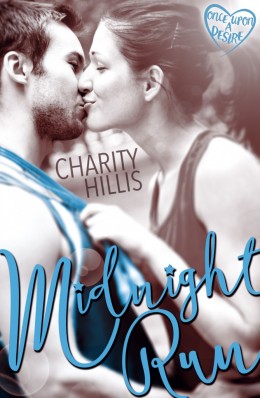 SYNOPSIS:
Once Upon a Time never felt like this…
Running, coffee, and New York City: Nora feels like she's got it all. But when this barista meets Kingston, a handsome Texan, she realizes the one thing she's been missing is love.
Kingston doesn't want to admit that he's looking for a fairy tale, and he sure didn't think he'd fall for two women. But what he doesn't know about his running buddy and the pretty barista might surprise him.
MIDNIGHT RUN is a contemporary romance inspired by Cinderella, and it's the first book in the Once Upon a Desire series.
Once Upon a Desire: contemporary fairy tales with a pinch of spice.
CHARACTER BACKGROUND:
Nora is a shy and insecure woman who is terrified of confrontation. She's pretty much content with her life; she's sharing an apartment with her gay best friend, has a supportive and loving family back home, and a promotion in the coffee shop she works for with her name on it. But life is full of surprises; some are bad and some are good. Hopefully she can deal with everything that comes her way.
Kingston is a true blue Texan; from the accent to his gentlemanly manners. He has always believed in happily-ever-afters so when he falls for two women, he doesn't know how to handle it. Especially since his sister's marriage is tumbling down. Will he be able to hold on to his beliefs or will pain and cynicism stop him from finding his own fairy tale ending?
REVIEW:
I didn't have any expectations when I started reading Midnight Run. But I wouldn't have thought that it will end up being this short. In more or less a hundred pages, the author was able to depict a modern day fairy tale-like love story. In this age, the term we can use is "insta-love". That is what Nora and Kingston's meeting was like. I'm honestly not a fan of stories like this because I don't believe in love-at-first-sight. Lust-at-first-sight, sure but I believe that real love can't possibly be determined in a few short conversations.
In spite of all my reservations though I still ended up liking the book as a whole. The story tackles a whole lot of things; romantic relationships, family, career, and of course, running. I would love to kill Lauren (Nora's co-worker) in the most painful way possible but it's still a good book.
I'm not sure if this is just the first installment in a series, but I hope it is. There were so many things left hanging; how will Kingston's career turn out, did Nora finally overcome her fear of Lauren, how's her best friend dealing with his ex, and so much more.
I do hope a part 2 is released soon; I've never been one for delayed gratification.
SUMMARY:
Midnight Run receives 3.5 stars from me. It's a romance-filled book with realistic characters in a complicated situation. It's a quick read with a good ending. Come check this out guys.
RATING:
ABOUT THE AUTHOR:
Charity Hillis has always had a thing for fairy tales. She is the author of the ONCE UPON A DESIRE series, including MIDNIGHT RUN (out now), CUTTING LOOSE (coming fall 2015), and PRINCESS SUITE (coming winter 2015). She believes in HEA like she believes in chocolate.
AUTHOR LINKS:
TOUR ORGANIZED BY:
Book image provided by Indiesage PR