Book Reviews
The Panty Whisperer: Volume 1 by Sloan Howell -- REVIEW!
I know The Dog Whisperer (Cesar Millan), the Ghost Whisperer (Jennifer Love Hewitt), but I haven't heard of The Panty Whisperer...until of late.
Let me share with you a short tale of how I stumbled (not) onto this book. Author Sloane Howell sent me a direct message on Twitter recommending this book. At first, I didn't even know that it was hers! So I checked it out (because I take book recommendations VERY seriously), and downloaded it. Come night time, I got to reading it, and it was a steaming hot 20 minutes. Yes it was that short that I wrapped it up in that amount of time.
Enough rambling, and let me introduce you to The Panty Whisperer...
**Warning: Contains adult language and steamy, hot, erotic thigh quivering descriptions. Enjoy!**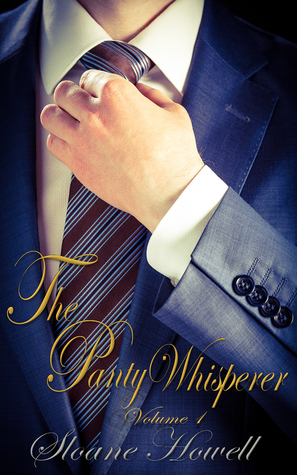 SYNOPSIS:
I want you to remember my face. I want to watch your eyes roll up in your head, your toes cramp up while curling under your feet, your thighs trembling around my face, begging for me. I want to own your mind for the rest of your life. The thought of me will be a thirst you can't quench, a drug you can't have, an itch that cannot be scratched, no matter how hard you try. Nobody will send a shock of neural ecstasy to the tips of your toes the way I will. Care to bet me?
Most people have something they're good at: math, sports,
music, art. I was born with a more specific talent, pleasing women. I don't know how or why it happened, it's built into my DNA. I've always had the golden tongue, able to talk women into fulfilling their deepest, darkest fantasies. My name is Joel Hannover, but my friends call me the panty whisperer.
I work as an accounting software consultant. It sounds fancy, like I should be good with math or computers. In reality I'm a salesman. My job just happens to be perfect for my hobby. Most accounting departments are comprised of women. Women most people believe are boring or uneventful. I meet these women every day. Insecure, dressed conservatively, hiding their beautiful bodies behind layers of clothing, afraid a few pounds of baby weight may still show. Ladies who work crossword puzzles and process numbers and transactions. It's all a facade, these women are sexual creatures who want to have all of their desires met and all of their needs fulfilled. Begging for someone to explore them, to bring them out of their shell and release the sexual tension that has saturated their entire being, afraid to break free.
Meet Jessica Moore: mid-thirties, married with two kids, unhappy. Incredibly sexy! Will I open her mind and push the erogenous zones in her brain past their breaking point? You'll have to read to find out..
Joel Hannover is a man who has mastered the art of seduction and graduated with honors when he took the "pleasuring women" course. He doesn't care if you're married. If he sees you want him, he will have you. If you don't...well, you just wait because you will.

This book is hot. Like oh-my-gosh-I-need-a-new-pair-of-underwear HOT. It wasn't fancy, it was short but it hit every single nerve ending in my body. The sex scene is something that most people think of but never really had the guts or the opportunity to do.
The description was very accurate. You can clearly imagine how the part was playing out. They were doing things that people can do in real life, and not something that ends up being impossible in actuality.
I guess the only peeve for me is that the woman, Jessica Moore, is married with two kids. Adultery has always been a big no-no for me. Normally it turns me off and I just stop reading altogether when I realize what's transpiring. But for some reason, I carried on with this story anyway. I guess it could be because it was short and there were no feelings -- aside from lust -- between them anyway.
I enjoyed this book a lot and I give it 4.5 stars. I will definitely read the other ones in the series and I hope you all join me in this trip down fu*kville. *wink*
XOXO